Loren Churchin-Lang grew up in Ambridge, Pennsylvania. As a high school student she played volleyball, soccer, basketball and softball. She competed in collegiate basketball at Indiana University of Pennsylvania, and was on the rowing team at Duquesne University.
Nathan Lang grew up on a farm in Saxonburg and wasn't involved in high school athletics. His high school years were spent throwing hay bales, not baseballs or footballs, he says.
Loren Churchin and Nathan Lang met at Westinghouse, eventually married, and are on the same page when it comes to athletics and competition. They are examples of wellness, as they have been avid CrossFit participants.
CrossFit is a program developed by Greg Glassman several years ago to utilize functional movements at high intensity and to use as many muscles as possible. More than 13,000 CrossFit facilities exist throughout the country, and for those who want to take it to another level, there are CrossFit competitions on regional and national levels.
For a while, the Langs were heavily involved in the competition aspect of CrossFit and Loren was on a R.A.W Training team that finished fifth in the world in 2012 and 15th in the nation the following year.
Although Nathan didn't qualify nationally, his training regimen was national-caliber.
So this became more than just a casual hobby.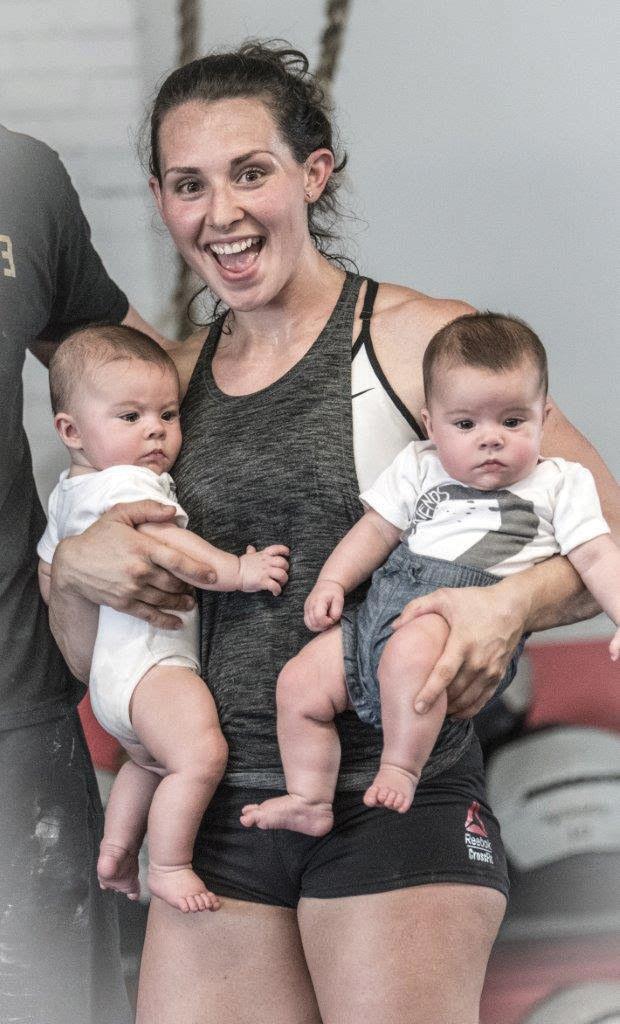 When Loren's R.A.W. team just missed out on a national bid in 2014, the core of the team broke up to pursue other things — like starting a family.
The Langs had twin girls, Ada and Blake, last December, so high-level competitive CrossFit has been temporarily abandoned. But the two still work out seven days a week and participate in local events.
"It's the jack-of-all-trades for fitness," Nathan says. "One morning, we did heavy dead lifts, clean-and-jerk for technique, and then a workout with squats and jumps and pull-ups and jumping rope. It's kind of everything all in one.
"The local competitions haven't stopped for us. But the crazy national and regional competitions had to be put on hold for a while.''
The Langs are serious about what they do. Depending on who is watching the kids, one or both of them get up for 5 a.m. workouts before heading to Westinghouse.
"The community and the people are great," Loren says. "You don't meet a lot of people who are willing to get up at 5 a.m. with you before work.
"Shortly after I had the girls, we had some of our friends come over to our house and they were laughing and asking what we were doing with our workouts. I pulled the rower into the living room and we started doing some row exercises. We all do this seven days a week. People push you and text you every day.''
Seven years ago, Loren was all-in for this physical adventure. Nathan was not so sure.
"It took a little prodding to get me interested in it," he says. "It was Loren's idea — she really got into it — and I thought I would give it a try.''
Even though he didn't play competitive sports in high school, CrossFit brought out some edge to his personality.
"When I was 20, I picked up weightlifting and a little bit of body building," he says. "CrossFit has definitely brought out that competitive side of me. I really enjoy it and it's funny how that competitive nature fosters that through all aspects of life — even at work.''
Nathan says he also likes the hands-on approach his peers take.
"They keep us accountable," he says. "The community is great. If you are not there at 5 a.m., they send you a text saying, 'hey – where were you this morning? Is everything OK?' We've developed some of our closest friends from the gym because you all have that same mindset and the same goals. You are all constantly trying to get better little-by-little.''