When Rob Cooney reached Freeport Beach in Pennsylvania after swimming 24 miles from Long Point, Ontario, in 13 hours and 32 minutes, he was greeted with applause from more than 200 people who were thrilled to see him become just the 21st person since 1989 to complete the rugged Lake Erie test.
One person who was not there, however, was an important figure in this wild endeavor.
Nicole Dann-Payne, a wellness coordinator and dietitian at Indiana Regional Medical Center, had worked closely with Cooney during his yearlong training for this event. The date of the event was fluid because of weather and other factors, so when Cooney hit the water on July 19, she was on vacation.
But when she heard that he made it to shore, she was just as excited as the hundreds of people on the beach hugging him and shaking his hand.
"I was very excited and proud of Rob," she says. "I first started working with Rob in November of 2017. After helping Rob for months and weeks with his nutrition, along with observing just how committed, dedicated and determined Rob was, I was confident that he was going to do well."
Dann-Payne has been with IRMC since April 2017. She is an athlete and track and cross-country coach who placed sixth in the Pittsburgh Marathon in 2013 and has run in the Boston Marathon.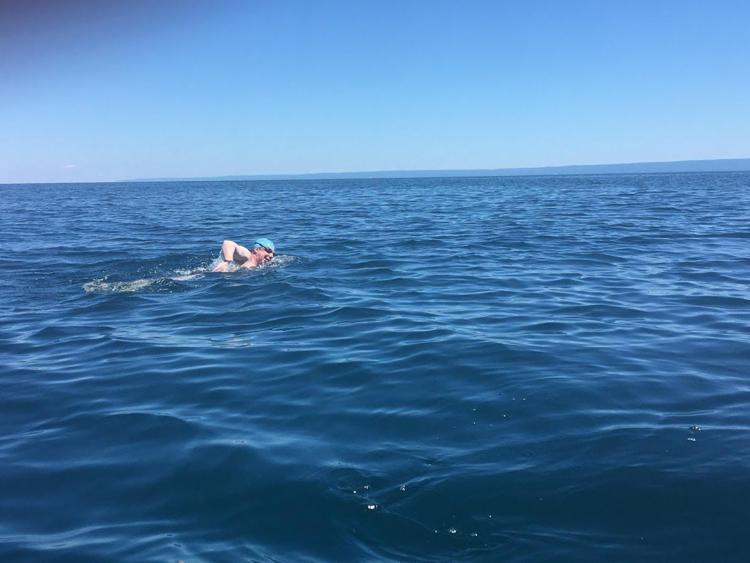 Stiff competition
Cooney, of Erie, Pennsylvania, has participated in Iron Man triathlons but had never swam more than three miles in one day until he started training for this event, which raised more than $15,000 for the Parkinson's Foundation. Cooney participated in honor of his father, Dave, who has had the disease for 11 years.
Running and biking long distances are one thing when it comes to nutrition. Swimming is another.
"When you are in open water, it's not like you can just eat a banana like you can when running or riding a bike," Cooney says. "You actually have to stop swimming to eat and drink. During training, when I reached 20 miles of shoreline swimming, I would report back to Nicole and we would tweak things and form a plan for the 24-mile swim."
"Rob predominantly consumed 'sport' foods, which are designed to be consumed during physical activity,'' Dann-Payne says. "He mostly consumed what we call sport gels, chews and drinks. Rob drank beverages that are designed for longer endurance activity."
Rob also ate whole foods such as bananas and cookies, and experimented during training with pretzels, Fig Newtons, and protein bars such as Cliff Bars.
"Nutrition and fueling strategy was very important leading up to the swim itself," Dann-Payne says. "For example, Rob needed to carbohydrate load two days prior to the swim, as well as ensure his hydration was adequate. Nutrition was also key leading up to his long training swims and ensuring he was consuming enough calories per day. Rob needed upwards of 3,500 calories per day."
Between Dann-Payne, Cooney's wife, Keri, and his sister Lori Smith (also a dietitian at IRMC) he wasn't at a loss for people helping him with his diet in and out of the water.
So he finished an endurance test that he says 80 people tried and fell short. He had also heard that some of the other 20 finishers over the past three decades spent time in the hospital after completing the 24-mile course.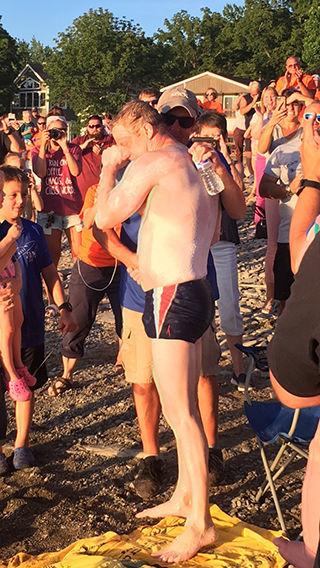 Thanks in part to his expert nutrition advice, he stayed out of the hospital. He says he felt good, but sore, on July 20 but reported to work as a manager and part owner of the Plastikos injection molding company because he was set to interview a prospective employee who was coming from out of town.
Cooney hit a current in the middle of the swim that cost him a couple of hours of time. He came out of the water exhausted but happy.
"I came out, sat down, took a quick breather, put my clothes on and there were 200 people cheering me," he says. "I made it around and greeted everybody I could until dark and thanked them for being there.''
One of those people was his father.
"He actually was out there for every open water swim during training," Cooney says. "He was on one of the boats. It was memorable to have him there and uplifting for him to see me there. I actually was thinking about him while I was swimming through the currents. He was an inspiration for me during training and the race. It uplifted me to get through this."