If you thought teenagers aren't interested in yoga, you should visit Midlakes High School.
Five years ago, yoga was introduced here as a physical education elective. Sixty students signed up. Today, that number is up to 100, instructor Lisa Pietrocarlo says.
"We like to give them some variety and this is offered to our juniors and seniors," Pietrocarlo says.
"The great thing is about 15 percent of the kids (taking yoga) are males," she says. "This is a great way to break the stereotype of it mostly being for athletic girls. That's a good testimony to the benefits of yoga for strength, balance and flexibility."
The yoga class she offers students is Iyengar yoga from India. "That style focuses on alignment and the use of props to get into position. Anyone can participate, regardless of their fitness level or their flexibility.
"For me, it's really exciting to have this group of kids who are motivated and interested about learning something that's so completely foreign," she says. "They have to learn Sanskrit, we talk about spinal and breathing anatomy. It's great to be an instructor to teach this to them."
In December, she offered restorative yoga to faculty and staff at Phelps-Clifton Springs School District. The breathing exercises, gentle stretches and supportive yoga poses were a hit during the hectic holiday season.
"Everybody had positive feedback and wished they could do it more often," she says, adding an encore is quite possible.
---
Sodus
In a room that's often used for electronic gaming, participants in the yoga program at Sodus Central School District get a reflective start to their day.
Class begins at Sodus Central High School from 6:30 to 7: 15 a.m. on Thursday mornings, Athletic Director Mike Magin says. Last year, it was held at 3:15 p.m., but the hallways are a lot quieter before school than afterward.
"That may be tough on some people," Magin says. "But as far as reaching out to people who can benefit from it, this works for them. The numbers haven't been great, but those that do come out enjoy it.
"It definitely helps people start the day off right."
If you don't work or attend the school, you can get more information about the yoga classes through the school district. Staff can participate for free, as well as any students who dare rise that early.
"We have what's called the 'exercise gaming room,' a big room with a bunch of electronic games that can be actively played, but it's also big enough to have the yoga classes."
---
Seneca Valley
Diane Neal of Seneca Falls School District fondly recalls when Mindful Meditation held a session with faculty and staff.
"They did four one-hour sessions with us," Neal says. "They taught us the importance of your breath work, of being in the positions we're in if we learn how to handle life's stressors and how we react to everything. We turn around and send our energy out for others, as well."
The sessions taught people how to align themselves against stress, then being able to help others do the same. The first session was in October. Ten faculty and staff members participated, of which Neal was one.
"It was very peaceful, very calming," she says. "I do have an incredibly stressful position. I am a data coordinator, so I've learned to incorporate some of those tricks, and I'm trying harder to be mindful in my reaction to things."
Neal admits that she, at times, has a short fuse. But yoga has helped.
"Just because something's happening doesn't mean its personal," she says. "And I don't have to make a decision or react at that moment. Sometimes you need to make a snap decision, but taking a couple more seconds to engage the brain over the mouth helps."
Dr. Christopher Ryan and Jennifer Salone from Ryan's chiropractor's office led the sessions. With all the positive feedback from participants, they hope to hold sessions in the spring, as well. This and any future sessions will always be only for the approximately 220 employees of the Seneca Falls School District.
---
Geneseo
Three years ago, Craig Veley, athletic director and assistant principal of the middle school and high school at Geneseo Central School District, was looking for something new to keep staff and faculty active.
The wellness coordinator found his answer in yoga.
"We were trying to provide an opportunity for staff to have some exercise and some collaboration," Veley says. "So, we brought in a yoga instructor, and now we have 10 to 15 staff members who come in on a regular basis."
Instructor Deb French leads the class, which is held from 3:30 to 4:30 every Tuesday.
"I've seen her leading the class," Veley says. "She does a great job and the faculty likes the class. It's a good workout for them. They enjoy being there for an hour for some physical activity, along with reducing their stress."
While Veley is familiar with yoga and has dabbled in it in the past, he's not in the classes this time around because of his job demands — class starts at the same time he's busy making sure students get on buses after school.
The class has proven to be a hit. So much so, that in past years students request extra sessions. Veley credits the class popularity with the fact that it doesn't matter what your age or fitness level is.
"Anybody can do it," he says.
Honeoye
Two distinctly different classes, Zumba and yoga, kick off in February at Honeoye Central School District.
"I haven't done it before and I don't think I'll be doing it," Transportation Supervisor Seth Clearman says with a laugh when asked about Zumba. "But I do know it's an intense Latin dance fitness class."
Announcements about the classes went out in the monthly newsletter and are made available through the school district's wellness program that tries to "encourage healthy employees and their spouses, anywhere from cooking classes and exercise programs to emotional and well-being classes."
You can sign up through Google link if you want to attend one of two Zumba classes and six yoga classes.
"There's a lot of styles of yoga, and you never know what you're going to get," he says. "If it's your first time ever, there's high-intensity, low-intensity, you can do a core type or a meditation type. It's not easy, even though you look like you're doing a lunge with one knee bent and the other behind you. Try to hold that pose, it's a challenge."
The key, sometimes, is mind over body.
"You have to concentrate, get the junk out of your mind that you're pondering over all day long, all the negative or the worrisome things," he says. "You have to drop it, get into the moment. When it's over, you feel good."
---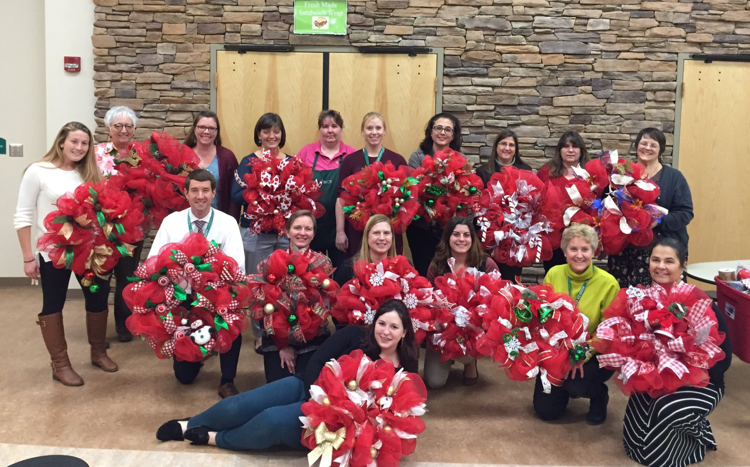 Naples
Alyson Powers, wellness coordinator and teacher at Naples Central School District, is excited about the wellness offerings there in what is her first year as coordinator.
"I try to do a wellness activity for my staff once a month," Powers says. "We did a ribbon mesh wreath as a social event after school where staff members made their own wreaths to hang on their school door or home door for the holiday season."
The crafting event attracted 17 participants and cost each $10 for supplies. Plus, they enjoyed cookies and hot chocolate.
"Super healthy, right?" she says with a laugh.
When it comes to physical wellness, Powers stays focused by attending quarterly wellness meetings.
"I have to provide biometric screenings for my staff members to sign up for, along with other wellness activities throughout the year," she says.
At the start of the year, she asked the staff what interested them most. Since then, they've incorporated kayaking, recreational volleyball and chair massages with a licensed massage therapist into the wellness repertoire.
---
North Rose-Wolcott
The North Rose-Wolcott Central School District is among the many getting involved with yoga these days. A seven-week program is arranged by Inward Office Yoga and instructed by Jim Stockschlaeder.
Yoga for the Back is about more than relieving physical stress. It's also about helping with mental stress, too. The class meets once a week for an hour at an elementary school.
The district has offered exercise programs including Burn & Sculpt, Zumba and Yoga for the Back for more than five years, wellness coordinator Jolene Caselli says.
"The ladies that signed up have participated in every program over the years," Caselli says. "I know how much they benefit from the program and I didn't want to take away this opportunity because of money. Our health is priceless."
Participants loved the small class sizes, as well as the instructor. One participant, Heather Dennis, spoke very highly of Stockschlaeder: "He explains each move as he shows you how to do the move, it really helps if you are a beginner or have difficulty. I have enjoyed every class with his calming tone of voice, relaxed personality, and excitement about yoga. Each class has helped my lower back so much that I feel like I have just left a spa, my muscles are so relaxed."