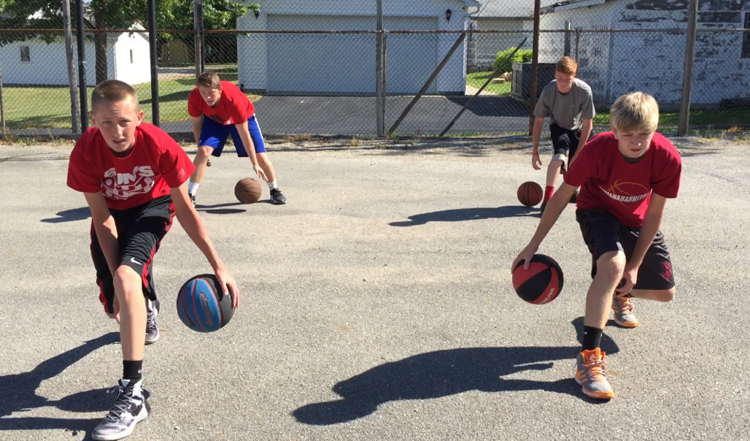 For Blackford High School head varsity basketball coach Scott Clamme, it was time to mix things up.
After the program endured an extremely tough stretch the past couple seasons, Clamme and his coaches wanted to do something to breathe life into the team and its players; to increase interest and to let local kids know that basketball doesn't have to be confined to the months of November through March.
So instead of utilizing their workout time by being completely indoors throughout the month of June, the Blackford players moved outdoors for several workouts, going to local parks and trying to establish a new summer tradition that, Clamme hopes, will show future Bruin players how it's done.
"Part of it was to get our guys that were going to be there anyway outside and get them some fresh air, and part of it was to get them in the community where kids that might ride their bikes by or who live next door or whatever can see them out there working and enjoying the park and enjoying playing basketball," Clamme said. "And then part of it was also just letting people in the community see that they're out there working hard."
Working hard is something Clamme knows he won't have to worry about when it comes to his 2016-17 Blackford squad. With just two losses due to graduation from last year's team, the Bruins have a good mix of incoming juniors and sophomores — as well as two seniors in Caleb Messersmith and Kerigan Reynard — on which the coach can depend for leadership this year.
The team once again won't rely on size and speed — the Bruins won't put any player taller than about 6-foot-2 out on the court this year — but Clamme believes the "skill gap" he's seen between his program and others on its schedule is quickly closing, and the summer workouts are playing a big part in that.
"Their attitudes have been fantastic," Clamme said. "We've got some guys that are really positive leaders, and so it's going in the right direction. It'd be nice to have guys bigger than 6'1" or 6'2", but that part is what it is, and I think this summer they're really starting to turn a corner as far as just basketball instincts, basketball knowledge, understanding how to play together."
These days, Clamme said, it's tougher to get both kids already in his program and local elementary and middle school kids to really commit to a full summer workout schedule. June is an extremely busy month for all high school athletic programs, as just about every team — whether it's football, soccer, baseball, basketball or others — is trying to improve for their following seasons.
But Clamme said he's had several players this offseason that will be at football from 7 to 9 a.m., then join the basketball team for workouts in the gym, then head off to soccer practice before returning to the gym later in the evening for scrimmages.
"It is tough for the high school kids, and the younger kids, too," he said. "Now there are AAU tournaments and traveling teams, and if you want to stay competitive, you have to do all of those things. As far as if you're a coach and you want your team to competitive, your kids have to be out and playing in that season's offseason, which is tough because then everyone wants to be doing stuff in June."
That's one reason why Clamme wanted to begin creating a culture of being able and willing to work beyond the gym when it came to the basketball program. Maybe a player can't make every team workout in June, but there's still a few minutes each day they could shoot free throws in their driveway or head to their closest park with some friends for a quick pickup game or two.
Once that attitude becomes an expectation, then it trickles down to the younger kids, who enter high school already understanding what it takes to be successful in the program. This year, Clamme said there weren't many younger kids who came out to work with the high school players out at the parks around town, but he hopes with a little more promotion and excitement about the program, then those numbers will increase every year.
"Next year maybe more kids in the community realize what we're doing," said Clamme, who is entering his second year as Blackford's head coach in 2016. "Once, maybe next year, kids maybe understand it a little more — we can promote it a little more at our basketball camps throughout the year — hopefully it'll be a positive thing for us in the future."